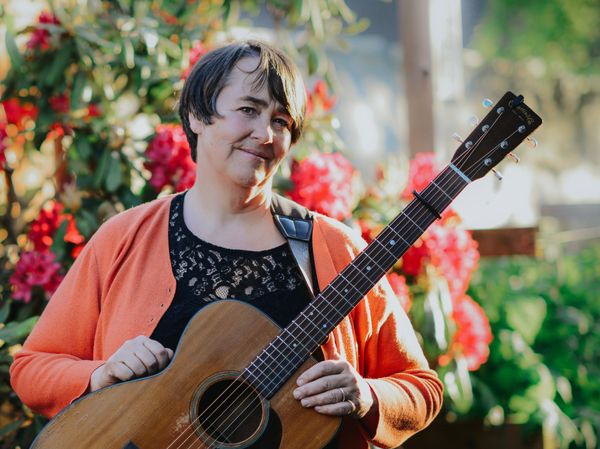 Annie Lou is the stage name of Anne Louise Genest, a songwriter, composer, and performer with a deeply-felt connection to older folk music traditions. With guitar and banjo in hand, she has spent years chronicling the rural and urban lifepaths of Canada, writing songs to tell the tales of the hard-hit, hard-won victories of these everymen and women. This is new music that is relevant to a modern audience but rooted in the musical traditions that grew out of communities where there was little separation between performer and audience - where everyone played something, or danced - and where music was clearly connected to the everyday lives of the people who played it.
Annie Lou's beautifully creative songs and tunes range from rousing and boisterous to gentle and poignant, and map a homescape of hard-drinking grandmas, rural dancehalls, blue collar fashions, small towns, big cities. All of this is delivered with Genest's vocal warmth, evocative of the sweet tones of Kate and Anna McGarrigle blended with the raw emotion of Hazel Dickens.

"Annie Lou's music is loose and playful, intense and breezy; performed by a smart woman and her highly polished sizzling band." - John Apice, No Depression Magazine

Annie Lou grew up in downtown Toronto in a large and loud family where, although no one played any instruments, the turntable was always spinning an eclectic mix of classical, jazz, rock, country, and folk music. "Music was hugely important in our household. My parents were devoted to classical music, but encouraged us to play our own music too, LOUD, and we were often switching between Vivaldi and the Grateful Dead at dinner time."

It wasn't until she moved to the Yukon in Canada's north that she discovered a desire to make music herself. In this wild and wide open place she realized that anyone can play music, and it's never too late to learn. She bought her first guitar for her 30th birthday, and taught herself to play in her off-grid cabin on the marge of Lake Laberge. Honing her chops around campfires and kitchen tables, she began songwriting and performing and eventually released two critically acclaimed solo CDs.

She found her true muse when she discovered bluegrass and old time mountain music, and delving more deeply into the older music led her to playing clawhammer banjo. "I do most of my composing on the banjo now. The sound and the feel and the history of the instrument is a deep deep well, and I can get so wonderfully lost in it." 

Surrounding herself with some of Canada's best acoustic musicians, she has released three albums as Annie Lou, and toured major festivals and venues across the country. She has been nominated for a Juno, as well as several Canadian Folk Music and Western Canadian Music  awards.

Anne Louise is becoming known as a skilled instructor of vocals, guitar, songwriting, and clawhammer banjo. She has taught at several music workshops across the country, including Nimblefingers Bluegrass and Oldtime Music Workshop, Georgia Strait Guitar Workshop, The Big Swig Banjo Workshop, The Woodshed Music Workshop, and the Northern Lights Bluegrass and Oldtime Music Campout. She is also a fine caller of southern style square dances!

Anne Louise's ongoing projects include working and touring with her band as Annie Lou, solo performing with her own self, periodic collaborative touring with Canadian banjo icon Chris Coole, square dance calling for festivals, weddings, and workshops, and jamming when she gets the chance. After twenty years living in the Yukon woods, she has relocated to the balmier shores of Vancouver Island and is enjoying the novelty of running water.